About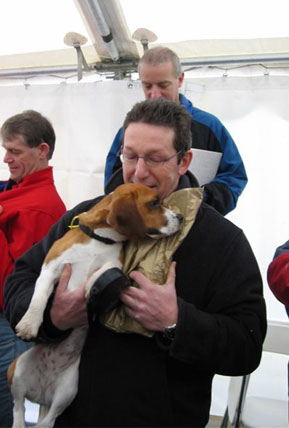 On The Farm is the weblog of Gareth Renowden, a New Zealand-based truffle grower and writer (above: with NZ champion truffle hound - the amazingly charming Peg). This is what passes for his "author biog":
Gareth Renowden is the author of The Truffle Book, president of the New Zealand Truffle Association and trainer of New Zealand's champion truffle hound, Peg. He grows three different species of truffle on his small farm in New Zealand's Waipara Valley, as well as olives, grapes (pinot noir and syrah) and walnuts. When not tending his crops he writes books and magazine articles, specialising in gourmet food and its production - and (as often as possible) consumption. He was keynote speaker at this year's Oregon Truffle Festival, and has travelled widely in France, Spain and Italy visiting truffle growers and sampling their wares. He aspires to selling New Zealand grown black and white truffles to discerning French and Italian customers, but in the meantime is happy to eat his entire crop.
He is the author of The Truffle Book (Limestone Hills Publishing 2005) which has justw won the Special Jury Award in the 2007 Gourmand World Cookbook Awards, The Olive Book (Canterbury University Press, 1999), and Video - The Inside Story (Collins, 1983). Recent articles include a profile of Annabel Langbein for Food & Wine and an article on truffles for New Zealand Geographic. He was the keynote speaker at the 2007 Oregon Truffle Festival and presented a workshop on truffles with Annabel Langbein and Daniele Mazet-Delpeuch at the International Association of Culinary Professionals conference in Chicago. His next book will be published by AUT Media in June 2007.